The recruitment company that doesn't compromise on quality!
Regardless of whether we do Search (Headhunting) or Selection (traditional Recruitment) we make sure that all involved parties – job seekers as well as the hiring companies – will get a long lasting solution. After more than 20 years in the business of recruiting and headhunting our head-hunters and HR consultants know all about how to recruit and attract the right employees and candidates to a company.
If we cannot find the right candidate through a traditional recruitment process we will headhunt for the right specialist, manager or employee to fill a specific vacancy.
Satisfaction guarantee
We work according to the "no employment no pay" principle, which means that if we do not find a suitable employee the client does not pay the fee. In addition to this we grant a 3-6 months satisfaction guarantee on our recruitment solutions.
Core deliveries within recruitment
Profilpartners offer a wide range of different solutions within recruitment, headhunting and HR in the following areas:
Headhunting/Search
Recruitment/Selection
Interim Management
Tests and Analyses
Outplacement Solutions
Boards
Advisory Boards
Facilitation of Personnel
HR and Consultancy Services
Passion for recruitment
All our services are characterized by our unique approach to the recruitment process and the fact that we are determined and passionate about delivering solid results.
Our reputation as recruiters
Our reputation precedes us and we often experience new clients approaching us based on recommendations from our longstanding contacts in the business community. If we have succeeded in providing a talented employee to a company, the company in question – or the department manager – will typically contact us next time they need to hire new employees for specialized positions within the Technological Sector, Construction, Life Science and the Industry.
Follow us 
Fortunately for us, people tend to talk to each other in the business community! We get quite a few new job contracts from our business partners and many satisfied clients who have spoken well about us to other companies regarding finding new employees.
Many people – including businesses and potential candidates – follow us on LinkedIn, where we regularly post new positions and news updates along with tips and tricks for job seekers and applicants!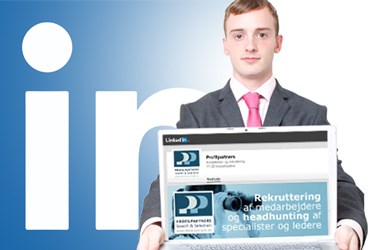 Profound knowledge of the business
The consultants at Profilpartners work within a wide range of sectors and our core competencies within recruitment are in the following areas:
Engineering
Development
Technology
IT and Telecommunications
Supply & Logistics
Energy & Resources
Construction
Industry & Manufacturing
Trade & Services
Life Science
Business areas – particularly good at Technology
We handle a wide range of recruitment in areas such as Technology, Management & HR, Sales & Marketing and Finance & Accounting.
We recruit employees at all levels of the organization (managers, top management and team members) and the positions range from researchers and developers, different types of production technicians, project managers, engineers, accountants, financial staff to personal assistants and secretaries.
Our HR consultants and headhunters have in-depth knowledge of which resources are needed to set a really good team of people within very specialized areas. We know how the technological sector works and we keep ourselves up to date at all times.  
We avail ourselves of external experts
The headhunters at Profilpartners have extensive knowledge about the sectors and the specialized areas in which we do business. This knowledge has been accumulated over the years through our work filling vacancies within Life Science, Engineering, Technology, and Construction and many more.   
Nevertheless, it is impossible for us to know every little detail within a very specialized business area. That is why we use external experts to call upon when we need to know more in a specific area. If we find that we need help to understand all the nooks and crannies of a specialist job we will draw upon our external experts who help us make sure that we are always on top of things and able to ascertain the skills and qualifications of the candidates that we interview.
Our external experts cover areas amongst others such as pharmacology, engineering, construction, chemistry.

Temporary hires
When it comes to temporary positions in administration and office support, storage and transportation, industry and craftsmanship Profilpartners work in close cooperation with our twin company, Vikarpartners.    
Get to know more about Profilpartners
If you want to read a little bit more about the services we provide at Profilpartners, apart from the information available under the different sections of our website, you can find more information in our small English excerpt of our Danish company presentation.
Contact us 
Only the main pages of our website have been translated into English. However, we speak English and you are always more than welcome to call us at +45 4343 4060 for an inspiring talk about how we might help you find your next specialized employee!