Profilpartners Search & Selection
Profilpartners have more than 20 years' experience in recruiting of employees and headhunting of Managers, Specialists and Generalists within a wide range of Danish and International Companies.
We often find new employees, Managers or Specialists through a headhunting search. We find that the normal way of job advertising does not always give the result that we are looking for. This is why we proactively do tailor-made intelligent headhunting to match our client's needs.
Solid Business Experience
Lone Kampler, CEO and founder of Profilpartners, established the Company in 1996. 
Lone says: "HR consultants and headhunters with Profilpartners have many years' experience in HR and the businesses that we have specialized in: Life science, the construction industry, the technical industry and many more. We usually get our new clients from word of mouth from our existing clients so we often do not have any control of which businesses we are going to recruit for. When we find employees to businesses in specialist areas and our in-house experience is not sufficient we will pull on our business partners in those special business segments with exactly the knowledge that we need. We have through the years supplied solid solutions in recruiting and headhunting to a broad portfolio of loyal clients. Our ability to find and attract the best employees has given Profilpartners a great reputation and will sustain by the word of mouth from our existing clients who send new clients our way when they need to employ new people and make use of Profilpartners Search & Selection offer."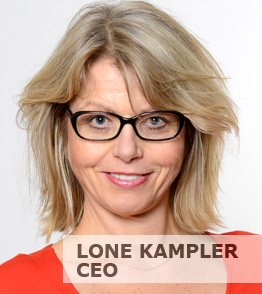 Search & Selection
When we search for a suitable candidate for a given position we search, headhunt or poke a person and it means that we actively contact those people who could be interesting for the position. Selection is the English expression for posting an advert online and select the candidates that we want to proceed with.
Integrity in the recruitment process
Lone, as the founder of Profilpartners, actively participate in the daily work with recruiting. The quality and the dedication in the work are what drive all the colleagues at Profilpartners. Lone says: "At Profilpartners we never compromise the quality of our work. We will always challenge our clients when we work together to create the optimal recruiting solution."
Sustainable staff solutions
Our goal is to make sustainable solutions that create joy and satisfaction to both the candidates and the clients that are involved in the recruiting process through Profilpartners.
Get to know Profilpartners
If you would like to know more about the different areas that Profilpartners can help your business with regards to recruiting, out placement or test of candidates you can navigate on this page, but you can also read more in our English Company Presentation, which is targeted our business clients.
100 % satisfaction guarantee on all Profilpartners' recruitment solutions
Profilpartners work in accordance with our "No employment no fee" principle when recruiting or headhunting new people which means that there are no strings attached when you choose to work with Profilpartners as your recruitment partner.